The Ultimate HVAC Sales Training Guide for 2023
Heating, Ventilation, and Air Conditioning (HVAC) repair and installation is a very unique business.

As an HVAC technician, your workspace is other people's homes.

You enter a customer's home, tell them what is wrong with their air conditioning or heating, and then sometimes persuade them to replace it at a cost of over $10,000.

Very often, you have to do this all in one visit. And you do it multiple times a day with different customers.

No wonder most HVAC technicians and HVAC salespeople feel stressed, uncomfortable, and under a lot of pressure to perform.

The good news is, it doesn't have to be that way.


How To Become a Successful HVAC Tech

The average HVAC technician salary in 2023 is $49,500 per year. Most HVAC techs in the United States make about $24 per hour, and take home about $723 after taxes.

But here's the good news: with professional HVAC sales training, you can earn over $100,000 per year as a HVAC tech.

How do you become a successful HVAC technician?

It comes down to mastering three different parts of the job:

- Technical HVAC knowledge
- HVAC service skills
- HVAC sales skills

The highest paid HVAC techs all master each of these three areas of their HVAC career, and as a result are able to make more on each sales call to a HVAC customer.

In this article, we will look at how to become a successful HVC technician and uncover what makes a good HVAC salesman. We will look at how to make 6 figues in HVAC, and what the most successful HVAC techs do to earn over $100,000 salary per year.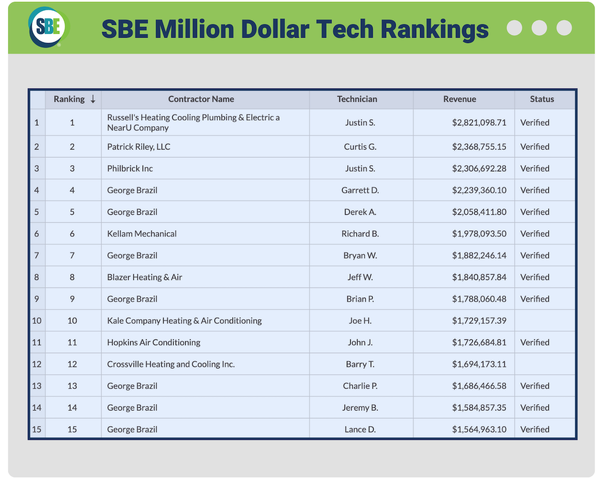 How To Earn $100k in HVAC Sales

Can you earn over $100K per year as a HVAC tech? Yes, you can.

In 2022, SBE helped over 40 HVAC techs to reach over $1 Million in revenue, and earn over $150,000 per year.

This ultimate guide to HVAC sales training, will give you the very best HVAC sales tips to boost sales and grow customer loyalty.

There are many approaches to increasing HVAC sales, including upselling customers on IAQ, duct cleaning, surge protectors, and maintenance agreements.

As a HVAC tech, having seasonal check-ups, tune-ups, and HVAC repairs is an excellent way to grow HVAC income.

HVAC sales is a challenging career. But it can be very rewarding and lucrative when you use the right approach.

A HVAC sales process must put the customer first, and focus on solving the pain each homeowner experiences.

If you are looking for proven HVAC sales tips, and HVAC sales training, then keep reading to learn more.

If you are ready to grow HVAC sales, this guide to HVAC sales training will set you apart from your competition.
HVAC Sales Tips from Million-Dollar Techs

As part of SBE's ongoing HVAC sales training workshops, we have worked with thousands of HVAC techs to grow their average ticket.

One of the key differences with million-dollar HVAC techs is that they always follow a HVAC sales process every time.

If you follow a sales process for your HVAC repair and maintenance visits, you will find that you increase the volume of sales you make on each call.

If you try to 'wing it' and just let the customer lead the call, you will find that you end up losing sales.

Every HVAC tech must customize the way they talk with homeowners, otherwise they won't be authentic and genuine. To help you craft your own process, here are proven HVAC sales tips and strategies that will help you stay on track and to grow your HVAC sales.

Here are 5 HVAC Sales Tips used by Million-Dollar HVAC Technicians:


1) Call Your Customer Before You Arrive
If you take five minutes to call your customer before you arrive you will build trust and rapport. Take the initiative to introduce yourself and let them know you are on your way to their home. You can also ask them about the problems they are having and how you can help them. Doing this will separate you from the majority of other HVAC techs who just show up at the house unannounced. It will also help you be more prepared for the job type, and to uncover problems with the equipment once you arrive.


2) Ask The Customer For Information First
Before you start talking, try listening! Remember that anything you say your customer won't likely believe. But anything they tell you, they will believe completely. Let them tell you their problems with the HVAC system, and how they need you to help. Uncover the issues they are having and the pain it is causing them. Take 5 minutes when you arrive to listen and ask questions and watch how much easier the customers will buy from you.


3) Show All Components of the HVAC System
Most homeowners don't realize that there are many components that make up their HVAC system. They assume it is only the outdoor unit that is causing issues. Take time to tour the home with them, and ask them about the Thermostat, the air filters, the temperature in each room, the indoor unit, the vents, and the outdoor unit. Doing this gives them a complete picture of their HVAC system and helps them better understand what might be causing them problems.


4) Discuss Financing and Money Properly
Many HVAC techs are uncomfortable discussing money with homeowners. They didn't sign up to be a salesperson, but now they have to talk about the cost of the HVAC unit, and get the customer to buy. One of the easiest ways to make the conversation about money easier is to during up the monthly payment options first. Consumer financing has made it a lot easier for homeowners to afford a new HVAC unit. Mention that financing options are available and many customers choose them over paying for the unit in one lump sum. The sooner you talk about cost and money, the more likely a customer is to make a decision.

5) Create a Plan That Meets Customers Needs
Every HVAC sales is a collaboration between the HVAC tech and the homeowner. Remember that trying to 'sell' them will result in the customer telling you "I'll think about it." Instead of trying to deliver a sales pitch, simply offer to create a plan together that works for them. Let them know whatever they decide to do is what you will accept. Taking this approach will close more sales over the long term, and lead to more referrals and repeat business.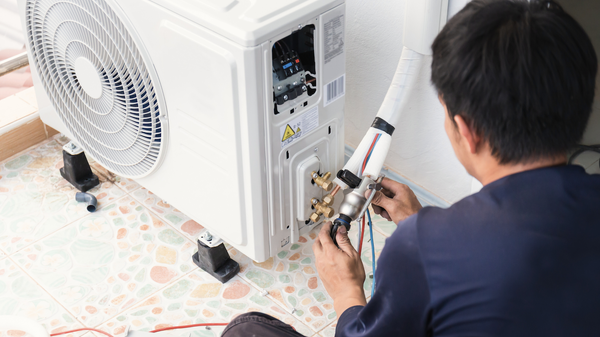 Is Selling HVAC Services a Good Career Choice?

Many HVAC service technicians choose their careers to help people. They enjoy working with their hands and doing engineering work. Talking with HVAC customers and being a good salesperson is not the reason most people join the HVAC industry.

Aside from the financial rewards of a good income, there are a lot of other benefits of starting an HVAC technician career.

The ability to use your technical and mechanical skills is very valuable and can help people to solve their air conditioning problems quickly. As an HVAC tech or HVAC comfort advisor, you are also able to help people choose the best option for their budget and needs.

On top of this, there are many opportunities to mentor younger HVAC techs and teach them selling skills to grow their own income.

And lastly, there is a great deal of demand and job security in the HVAC industry. Thanks to high temperatures, and innovations in energy-efficient cooling and heating systems, there are a lot of staffing shortages for HVAC companies.

According to the Bureau of Labor Statistics, there will be a consistent 5% job growth for HVAC technicians from 2023 to 2030, which translates to 38,500 additional jobs.


What is the Highest Salary for HVAC Sales?

Many people who are considering a career in HVAC as a technician wonder what the earning potential is. It is hard to determine what an average HVAC Tech Salary is in 2023, as there are a lot of statistics available.

According to HVAC salary data from Mint, the average HVAC technician salary is $49,500 per year. This average HVAC tech salary includes taxable wages, bonuses, benefits, spiffs, and more.

On average, an HVAC tech will earn approximately 10-14% of the annual revenue that they create for their company.

For example, HVAC sales professionals who produce over $ 1 million per year in revenue will earn about $100,000 - $140,000 in salary and bonuses.

Of course, HVAC sales training plays a big part in how successful a technician is and how much annual revenue they create. The higher the average ticket and the more maintenance agreements an HVAC tech is able to sell, the higher will be their salary and commissions.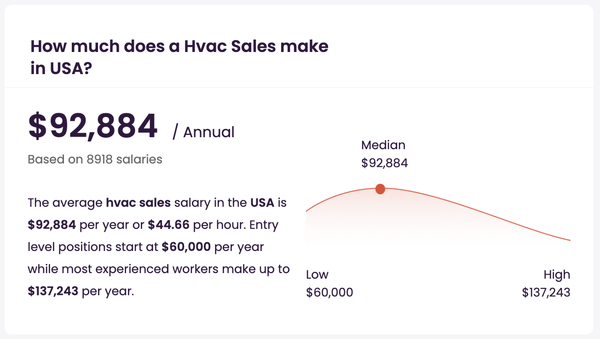 Is Being an HVAC Service Technician a Good Career?

In short, yes, a career as an HVAC Service Technician can be very rewarding. HVAC contractors can make an excellent living, and work with people to help them take care of their air conditioner, furnace, and indoor air quality needs.

The HVAC industry is always growing, and there is a lot of opportunity for qualified HVAC salespeople. Here are some of the benefits of selling HVAC systems:


High demand for qualified salespeople. The HVAC industry is growing and is estimated to grow 5% per year for the next ten years. As a result, there is a high demand for qualified HVAC salespeople. This means that HVAC service technicians have excellent job security and the opportunity to earn good salaries above $100,000 per year.


Variety of customers. A HVAC sales representative has the opportunity to work with a variety of customers, including homeowners, small businesses, retail and restaurant locations, and government services. A role as a service tech can be a great way to meet new people and learn about different industries.


Opportunity to learn new skills. HVAC salespeople are constantly learning new things about HVAC systems and emerging technology. With the growth in solar technology and a big focus on high energy costs, there is a lot of opportunity to help solve problems for your customers.


Ability to start your own business. With the right experience and training, HVAC salespeople and service technicians can potentially start their own businesses. Once you understand the technical and installation side of the business, if you are able to take care of your customers, then you will likely have bigger success as an HVAC business owner.



Getting Started With HVAC Sales Training

While there is no specific training course that is required for HVAC sales training, there are many options available to help you.

Once you know the basics of the HVAC trade, it can be a good idea to spend time studying sales skills and learning how the most successful HVAC service technicians communicate.

One way to get excellent HVAC sales training is to attend workshops and seminars, either online or in person. If you can find virtual HVAC training, it can be done while you are driving from job to job.
Investing a few hours a week into your sales experience and communication is one of the best ways to stand out from the competition in the HVAC industry.

Whatever kind of sales training you do to improve your success as an HVAC contractor, remember that when you learn more, you earn more!


Learn From The Highest-Earning HVAC Techs In The Industry
Looking to get the best HVAC sales training available?
SBE's Service Champions is an acclaimed HVAC sales training program designed to propel home service companies toward sustainable profit and expansion.
Using a proven HVAC business coaching process, we've helped over 1000 service technicians grow their income and success.
Book your training today to start earning more and grow your future success in HVAC.
Ready to Take Your HVAC Sales Skills to the Next Level?