The Ultimate HVAC Marketing Guide for 2023
HVAC Marketing is a little confusing to say the least.

As a HVAC company, getting new customers and leads through HVAC marketing can be difficult if you don't know the right methods.

Fortunately, at SBE we have studied and worked with the best HVAC business owners and successful HVAC companies across the US, and have learned the best HVAC marketing tactics that get new customers.
All HVAC marketing must be driven by the goal to build trust.

Once there is trust with a potential HVAC customer, the process of buying moves smoothly and quickly.

HVAC contractor marketing should always be geared towards solving the pain points of your customers. Using high quality website design, content marketing, social media marketing, email marketing, and video marketing are all excellent ideas - as long as you know the true purpose behind them.

Everything you present to the world about your HVAC business through your marketing either builds or erodes trust.

Every new HVAC prospect starts at zero until your marketing makes them shift their 'trust meter' one way or the other.

In this HVAC Marketing Guide, we are going to look at some of the best marketing tips to grow your HVAC business, and HVAC marketing strategies that attract and retain customers.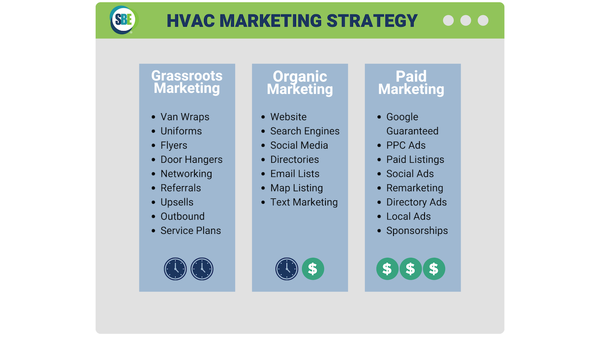 Proven HVAC Marketing Tips To Grow Sales

SBE has helped over 1000 HVAC Companies to grow their revenue, and increase sales.

We are specialist HVAC business consultants who know the landscape and the business operations that can help you success. Our average HVAC business owner has a net revenue of 15%, and are industry leaders in revenue and growth.

This HVAC Marketing guide, will give you the very best HVAC marketing strategies to boost sales and grow customer loyalty.

HVAC marketing can be challenging to get started with, but with the right approach you can get a lot more new HVAC customers and increase your sales and revenue.

Combined with the right HVAC sales process, you can convert a lot of new HVAC customer leads into long term customers.

If you are looking for proven HVAC marketing tips, or a HVAC marketing plan, this article will set you apart from your competition.
What is The Purpose of HVAC Marketing?

The word 'marketing' means to bring a product or service to the marketplace.

Through your HVAC marketing, you make it known that your HVAC services are available, and that you are the best option to choose to meet a potential customers' needs.
The true purpose of all HVAC marketing is to get the phone to ring.

If you are getting phone calls, and web form fills, then you know that your HVAC marketing tactics are effective. If you are not, then you know you still have to do.

Remember, most potential customers will look for reasons to trust your business over any other HVAC service, so it's important you present your HVAC company in the best possible way.

All HVAC marketing must help to build trust with new customers.

Once there is trust with a potential customer, the process of buying moves smoothly and quickly.

Everything you share offline and online about your business either builds or erodes trust.

Every new HVAC prospect starts at zero in terms of trust until your marketing makes them shift their 'trust meter' one way or the other. It's up to you as a HVAC company to make them want to choose your business over another HVAC contractor.
1) Grassroots HVAC Marketing

As a HVAC business you are tied to a location.

Your business is limited in the physical locations that it can serve. Your customers will also only call a HVAC service that is reasonably close to their local area.
This is just the reality of the HVAC industry, and one that all business owners have to work with.

The good new is most HVAC business owners ignore the most lucrative HVAC marketing strategy that is available to them.

Grassroots marketing is the best way to get attention from people in your local area who are looking for your HVAC services.

The difference between Grassroots marketing and online marketing is that is costs time and effort more than money.

However, when it is done consistently, Grassroots marketing can create impressive results and a ton of local referrals for your HVAC business.

A lot of your easiest HVAC sales and long-term customers will come from Grassroots marketing efforts.

The good news is that they can grow brand awareness and trust for your services without spending a lot of money.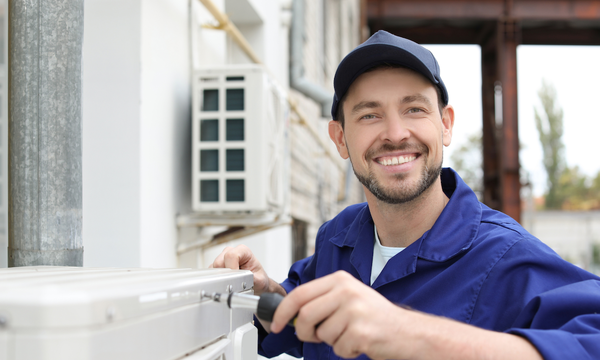 HVAC Promotional Tools


Grassroots HVAC marketing is very simple, and can very often be overlooked. But you can gain a great deal of local visibility if you use simple HVAC promotional tools such as:

Van wraps
Professional Uniforms
Office signage (listing services such as Air Conditioner Repair, Air Conditioner Replacement, etc)
Local ads (bus stops, sponsorship ads, billboards)
Door hangers (clover leafing an area after servicing a customers home)

These basic forms of HVAC advertising are very effective for people looking for a HVAC contractor locally.

If you can build brand awareness, your prospective customers will remember your HVAC company name when they need air conditioner repair, or furnace repair.


Personal Visibility

Another form of Grassroots marketing is your personal visibility as the HVAC business owner. Do not underestimate how many people will see you as the business, rather than your brand name.

Types of personal visibility as a HVAC business owner can include:

Being known by influential people in your local area as a HVAC contractor
Attending networking events (such as BNI, Chamber of Commerce, or Associations)
Charitable contributions to local sports teams, local charities, or other community supported events
Partnering with adjacent businesses to gain direct customer referrals (builders, plumbers, electricians, cleaners, home repairs, realtors, movers, etc)
Customer Referrals and Upsells

The very best kind of Grassroots marketing are your customer referral and upsell opportunities. These HVAC marketing efforts can include:

Growing referrals from customers - asking for referrals, thanking people for referrals
Upselling to customers - by being proactive with explaining add-on services such as IAQ, duct cleanings, maintenance agreements, etc, you can potentially double and triple your revenue per HVAC service call.
Seasonal HVAC offers - these can include tune ups, free inspections, IAQ or duct cleaning specials, etc.


These forms of HVAC marketing and HVAC advertising are the first and most important type of marketing that each HVAC business owner should take time to put in place.

Remember that all Grassroots HVAC marketing takes a small amount of effort to start and consistent effort to maintain. You can stand out in your local area and capture a lot of business simply by making an effort where your competitors don't.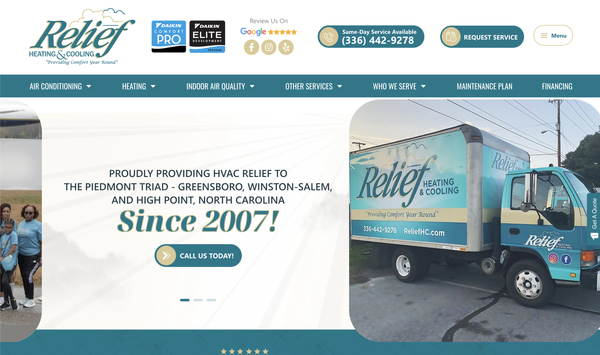 Organic HVAC Marketing


Since the early 2000s, people look for local service businesses online to take care of their HVAC, plumbing, electrical, cleaning, and repair needs.
Google and all other search engines will send customers to the most useful, relevant, and best HVAC websites based on their location, and relevance to the search they make.

The good news is that as a HVAC business, you can do a lot to help Google to list your HVAC website in the top 10 Google results and send a lot of organic (free) traffic your way.


Understanding Search Intent
When it comes to SEO for HVAC sites, it's important to know about search intents. There are four ways that people search on Google:

Navigational intent: Users want to find a specific page (e.g., "gmail login")

Informational intent: Users want to learn more about something (e.g., "what does IAQ do?")

Commercial intent: Users want to do research before making a purchase decision (e.g., "best AC repair")

Transactional intent: Users want to complete a specific action, usually a purchase (e.g., "new air conditioner system cost")

The best HVAC websites accommodate all these different types of search intents to rank well on Google. If you want your HVAC site to grow more customers, you must do the same.

What Makes a Good HVAC Website?

Your HVAC website is your home on the web and the place to build trust with your new customers.

Everything in your HVAC website design should help to move the customer closer to action.

A poorly designed HVAC website will cause a person to click away within less than 3 seconds, so it is important that your site is up-to-date, fast, and has all the relevant information they need.

A shortcut to make your HVAC website rank better is to make it relevant, trustable, and useful.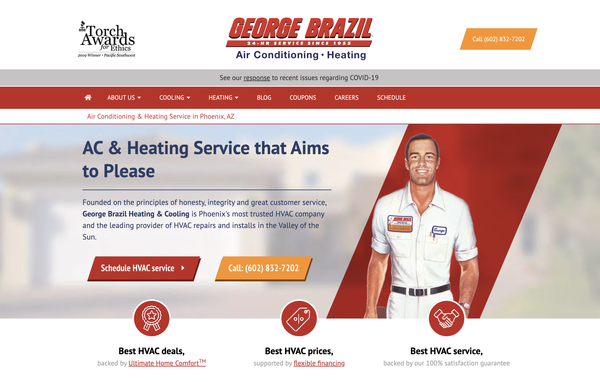 HVAC Website Basics

Your HVAC marketing plan should include a high-quality website that appeals to new customers and offers useful information.

If you want to grow your Google rankings for your HVAC website, here are the core elements and website pages you must have:

Locations - Clear mention of larger and local city areas, zip codes
Services - A complete list of all services, described in the language of your customer
Testimonials - Real world stories and quotes from past customers
Offers - Specific packages and offers to entice the customer to call/email
Team photos - Clear, professional photos of team, and team at work
Calls to action - A button on every page that allows the person to call or email
Contact page - All contact details including a map, photo of office, and phone numbers
HVAC SEO Basics
If you want your HVAC website to rank on the first page of Google search results you need to meet the minimum standard for speed, user experience, readability, and usefulness.

The most important factors that the Google algorithm looks for to rank your site are:

Mobile First Layout - Your HVAC website must look good in the mobile version. In 2023, over 63% of all Google searches are performed on a cell phone or tablet. Make sure your site is readable and clickable when viewed on a phone.

Fast Loading - The average website visitor will click away from your website after 3 seconds if the site doesn't load. Make sure your website is hosted on a high quality hosting platform and loads instantly.

Location Specific Services - make sure to mention your locations on all services page (example). The Google algorithm will rank pages by services and location first.

Clear Offer and Action Steps - know what you want each website visitor to do on each page. Add buttons and ways to get in contact from each page. (example)

Simple Website Navigation - Is the most important information on your site easy to find info, easy to read, and clickable? Do you have your phone number clearly displayed on each page? (example)

Clear Headlines - Keep people reading by having clear headlines showing what you offer, and how they can get in contact. Ask your where you want a person to look and where to click on your site.

Team Pictures and Videos - People will trust a HVAC company that has pictures of their real team - don't use stock images or generic HVAC units as your home page images. Spend a few hundred dollars and invest in some quality photography. Also, consider having videos of your team, or customer testimonials on your site to help build trust and grow interest (example)


Advanced SEO Ranking Tips

The most important tip for ranking well in the search engines is to keep your HVAC website up to date.

High quality content marketing will help your site to rank higher in the search engine with only a small amount of effort each month. Website design also plays a factor in how the site ranks in the SERPs.

Add new pages for each new location you serve, add new product info, update your pricing and offers at least four times per year. Add a monthly blog post to keep people up to date with industry trends and changes.

To grow more trust and increase the time spent on your HVAC website, you can also:


Have professional photos of your real team on every page. People will have more trust for companies that show real people rather than stock images.


Add before and after photos showing examples of work, to prove that you are an expert at what you do.


Create helpful buyers guides that people can download as a PDF (these can also be used to obtain email address for a mailing list).


Create a basic HVAC FAQ page - add your top 10 air conditioning and heater repair questions everyone asks to your website. You can also send this to customers before their first appointment.


Use videos to answer common questions and build trust. Video can add a lot of personality and make you stand out from the competition.


Create an email newsletter signup linked to a special offer. Add all new and current customers to your email list and send our monthly and quarterly updates to stay in contact.

Google Business Profile (Map Listing)

Google Business Profile (formerly Google My Business) is one of the best ways to stand out from competition while spending zero dollars.

Best of all, to stand out from the competition just takes is some initial and ongoing effort every week or so.
Local results are listings for businesses that show up alongside the map. Sometimes called a 'local pack', it is based primarily on relevance, distance, and prominence. A combination of these factors helps Google to find the best match for a search.

There's no way to pay for a better local Google Business Profile ranking. Google keeps the search algorithm details confidential, to make the local search ranking system as fair as possible for everyone.

However, Google does explain three ranking factors that affect the Google Business Profile:

Relevance - this factor is linked to how well a local business matches what a customer is searching for. If you add complete, detailed business information to your listing, this helps the Google algorithm to better understand your business services and match your Google Business Profile to relevant searches.
Distance - this factor is determined by how far each potential search result is from the location term used in a search. If a customer doesn't specify a location in their search, Google will attempt to calculate distance based on their location. This is important for searches where people use the term 'near me'.
Prominence - this factor is based on information that Google has available about a business, from across the web. This information can include links, articles, and directory listings. Google review count and review scores also factor into local search rankings. The more reviews and positive ratings a business has the higher their ranking in local searches. A website position in web results is also a ranking factor, and this is whey search engine optimization (SEO) is important.

These ranking factors are Google's attempt to show how well-known and trustable a business is. Some places are more prominent in the offline world (e.g., famous museums, landmark hotels, or well-known store brands) and search results try to reflect this in local ranking.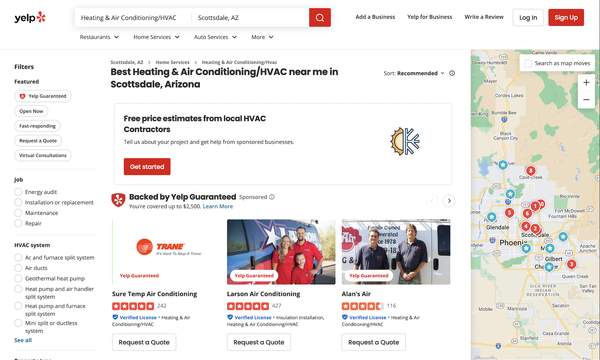 Business Directory Listings


Many HVAC customers who are looking for a contractor won't know where to start. For this reason, online directory listings make it easier for them. Sites like Yelp, Angi's, and Homeadvisor create lists of HVAC service providers. Some sites like Angi's will also vet and review contractors and rank them according to how much they pay for advertising.

As a HVAC business, you can get listed on these directories sometimes for free or for a low cost. If you are wanting to grow your visibility, then business directories can be a good addition to your HVAC marketing plan.
Angi: When you list your business on Angi, you'll be ranked based on the number of positive client reviews you have. You can also boost visibility by buying ads at an added cost of about $300 per month.


HomeAdvisor: get matched with customers who need installation, repairs, or replacements for any kind of HVAC system. HomeAdvisor gets customers to fill out a questionnaire, then matches them with your company if you're a good fit for the job. Contractors pay around $300-$350 for a yearly membership, plus an additional $15-$100 per lead.


Thumbtack: Thumbtack for contractors showcases your business to customers in your ZIP code, alongside other HVAC businesses nearby. You pay for leads and bookings - new customers who reach out or book you directly based on your availability. Typical thumbtack costs are between $1.50 up to $10 or more per lead.



Yelp: similar to a Google Business Profile, Yelp offers a free online directory and review service for consumers. It is predominantly focused on location based businesses, and can be a useful way to add to your web presence. You can begin with a free listing and ask customers to add reviews. There is also an option to advertise directly on Yelp and appear at the top of the listings, or to run special offers.



Other free business directories that can help grow your online visibility include: judysbook.com, spoke.com, yellowpages.com, foursquare.com, and botw.org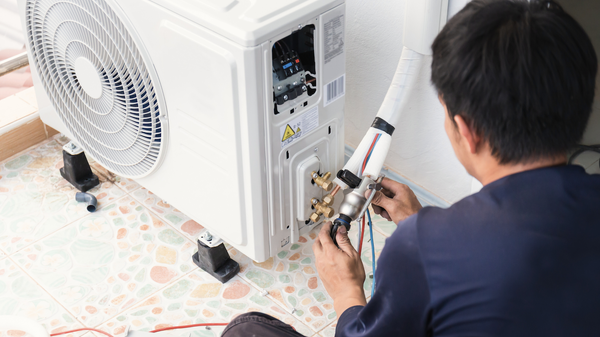 Paid HVAC Marketing

When HVAC businesses want to advertise the first place they think of is Google. This strong preference is valid, as Google owns over 92% of all online searches.
For most local businesses, a Google ad listing is an excellent way to gain attention from customers who have a pressing need.
However, when it comes to using paid ads, remember that it is easy to lose money if you don't have all the other components in place first.

For this reason, you have to understand the different types of Google ads, and how much to spend on them as part of your marketing efforts.


What Are Google Local Services Ads?
You might have heard a HVAC marketing agency refer to GLSA, LSA, or Google Guaranteed.

All these forms of paid ads refer to to Google Local Services Ads (GLSA).

These ads are the three types of Google Local service ads you see at the very top of the Search Engine Result Pages (SERP).
Google Local Services Ads are very effective for HVAC contractors as Google only charges the business when the customer calls, books service, or messages you. This gives an advantage over traditional Google ads, which are pay per click (PPC) ads (also known as Sponsored listings or Paid listings).

It's important to understand how Google changes the Search Engine Results Pages (SERPs) when somebody looks for a local service business.


How Google 'Changes' Search Results
You might have noticed that when you type the words 'AC repair' or furnace repair' in to Google that the search results look like this:



With commercial intent searches, Google transforms the search results into a list of ads and high-relevance business listings. Digital marketing is highly customizable and Google has many ways to give people the information they need.

These search results are variable based on several factors, including how much businesses are willing to pay for advertising, and the proximity to the person searching.

If you are looking to advertise on Google, it's important that you understand the different tiers of Google advertising and listings for businesses.

Google Guaranteed Ads


Google Guarantee costs $50 a month to verified business owners; this only applies to becoming a Google Guaranteed business.

This certification will position your business in an upgraded profile (with a green check mark) within the Google Business Profile listings. This guarantee insures buyers up to $2,000 (lifetime cap) if they are unhappy and want a refund.

When you apply, Google will check your business license, insurance, and online reviews. They'll also conduct background checks on employees—at no cost to you. Owners' backgrounds are always checked, and other backgrounds are checked based on the nature of your business.
If you have to compete with a large number of other businesses in your area for local and ad listings, you'll probably benefit more from having your ads highlighted.

Google Ads (PPC ads)

Google ads are the most conventional type of ad you see. They are text-based ads and usually offer only a little information about the services. Depending on the competition in your area for organic listings, Google PPC ads can be a cost effective way to stand out and grab attention for a minimal cost.
The most important thing to focus on with Google ads is your daily and monthly spend. It is very easy to over pay for clicks that don't result in a lead, especially if you don't have a compelling website.

It is far better to set a small budget of about $20 per day and test the results than try to outbid and be at the top of the ad pile for $200 per day.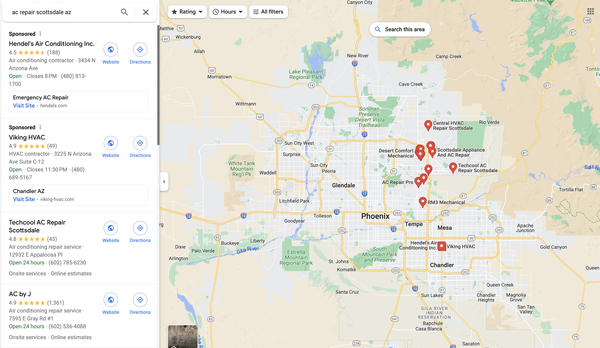 Google 'Local Pack' Map Listings

The 'local pack' refers to the Google Map listings that appear on the search results when people look for a local business.

They are integrated with both Google Maps (location-based search) and also the Google Business Profile (GBP) listings that are free for businesses.

If you want to stand out in the Google Map listings, there is an opportunity to advertise your company at the top of the listings. These sponsored local pack ads are now also integrated with Google Guarantee so they add an extra element of trustability.

Learn The Secrets to HVAC Business Growth

If you want to compete in the crowded market today, you need to have the best systems and a highly-skilled team.

If you are ready to grow your business and to stand out from the competition, SBE's Odyssey Program can help you to get started.
SBE's Odyssey Program is an acclaimed HVAC business coaching program designed to propel HVAC businesses toward sustainable profit and expansion.
Using a proven HVAC business coaching process, we've helped over 1000 service technicians grow their income and success.
Contact us today to start earning more and grow your HVAC business.
Ready to Stand out from the Competition?