How Much Can You Earn as an HVAC Tech in 2023
The role of an HVAC tech is an integral part of any HVAC business.

HVAC services help keep people's homes safe and comfortable during the hottest and coldest months of the year.

An HVAC technician is responsible for installing, repairing, maintaining, and troubleshooting Heating, Ventilation, and Air Conditioning systems for both residential and commercial buildings.
Every HVAC job is slightly different depending on the needs of the customer. Some need to focus on energy efficiency, others on indoor air quality, some are only focused on keeping cool or warm at the lowest possible cost.

In this article, we will look at how much you can earn as a HVAC tech in 2023, and how to make more money as a HVAC technician no matter which state you are in.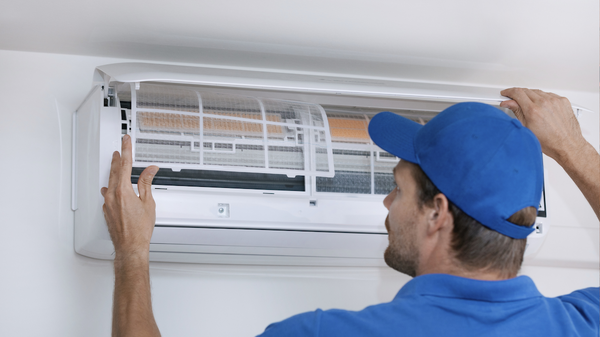 Where Do HVAC Techs Make the Most Money?

The highest-paid HVAC techs are in California, Nevada, and New York.
However, just because certain states offer a higher base salary for HVAC techs, this does not mean you cannot earn a higher salary in your state.

The highest-paid HVAC techs are not limited by a certain place or time of the year.
HVAC techs who earn over $100,000 per year are spread throughout North America.

If you are looking for where HVAC techs make the most money, it is better to look at how you can improve your individual skills and knowledge.


Can HVAC Technicians Make over $100,000 per year?
You might be wondering if an HVAC tech can make 6 figures.

The short answer is yes. It is very possible to earn over $100,000 per year as an HVAC tech.
You might ask how you earn over $100,00 per year as an HVAC tech.

Most HVAC techs who earn above the average salary are doing it by focusing on selling system replacements rather than just repairs and maintenance on an HVAC system.


How To Make More Money in HVAC
An HVAC technician who can sell new systems, IAQ or duct cleaning, maintenance and service agreements, and additional repairs will earn spiffs and commissions.

Typically HVAC techs will earn about 14% of their annual revenue in income. For example:


An HVAC tech who generates $500,000 per year will earn $70,000 per year
An HVAC tech who generates $800,000 per year will earn $112,000 per year
An HVAC tech who generates $1,000,000 per year will earn $140,000 per year

At SBE, we have trained HVAC techs to earn over $200,000 income per year as they are generating over $2,000,000 in annual sales for their company.


(View our top-ranked HVAC technicians listings here.)


What Does an HVAC Technician do?
If you are wondering what an HVAC technician does as part of their work role, here is an overview of an HVAC job as a technician.

As a rule, most HVAC techs will work on:

Installing, maintaining, and repairing ventilation and air conditioning systems and equipment

Identifying maintenance risks on equipment

Diagnosing electrical and mechanical faults for HVAC systems

Explaining problems and risks to customers

Offering solutions for HVAC repairs and replacements

Following up with customers to close HVAC system sales
These are technical skills that are required, but with additional training in sales and customer service, most HVAC techs can do a lot more than the base service technician role.


Is Becoming an HVAC Tech Worth It?

Financially, there are a lot of rewards for HVAC technicians who focus on growing their skills in sales and customer service.

To earn a competitive salary as a service technician you must spend time on training, both for technical skills and professional selling.

If you are looking for a rewarding career, then becoming an HVAC technician is a great way to achieve it.

With the right training, and joining a successful HVAC company, you can expect to earn $49,000 all the way to over $100,000 per year.

Of course, the success you achieve is up to you, and how much you are willing to work on your technical skills, communication, and ability to sell.

Learn to earn $100,000 as an HVAC Tech

SBE's Service Champions is an HVAC sales training program with proven results. The HVAC sales course is designed to help HVAC techs to sell services in a non-pushy, effective way that is guaranteed to increase revenue.

Using a proven HVAC business coaching process, we've helped over 1000 service technicians grow their income and success.

Book your HVAC sales training today with SBE to start earning more and grow your future success in the HVAC industry.


Ready to Grow Your Income?