How to Grow Your HVAC Business in 2023
If you're an HVAC business owner or looking to start your own HVAC business, you are in an excellent position in 2023.

The HVAC Industry is poised for massive growth.

By 2028, the HVAC industry will require over 46,000 new HVAC technicians. This demand for HVAC contractors is much higher than all other service businesses.

If you are looking for ideas on how to grow your HVAC business, or how to get HVAC customers, this article will give you some of the best strategies to get started.

How Much Do HVAC Business Owners Make?

Most businesses in the HVAC contractor market are small, earning less than $1 million in revenue per year. According to ZipRecruiter, the average HVAC owner's salary is $131,000 per year.

The lowest 10% of HVAC business owners earned approximately $35,000.
The top 10% of HVAC business owners earned over $78,000 annually.
The good news is that HVAC business owners have the potential to increase their yearly revenue to above $3 Million or more.

With an average profit margin of 10%, this means that the HVAC owner's profit would be close to $300,000 per year.

How Much Profit Do HVAC Companies Make?

The average profit margin for an HVAC company is less than 2%. This is due to poor management of expenses and a lack of consistent revenue throughout the year.

With the right HVAC business plan and a solid financial plan and price book, an HVAC business can reach as high as 10-20% net profit.

When it comes to HVAC business expenses, it is important to keep them under 60% of your gross revenue if you want to grow your HVAC business.

For an HVAC business to be successful, you should aim for a Gross profit minimum of 40%.

Your HVAC business overhead should be between 25% and 35% of total revenue.

What Makes an HVAC Company Successful?

No two HVAC businesses are alike.

Even though the air conditioning and heating services they provide are similar, the way they operate is unique.

The mix of heating and cooling services, the skills of service techs, and the target market for each HVAC company will determine the rate of growth.

When it comes to growing an HVAC business, and knowing how to get HVAC customers, there are key components that will help you become successful.

1) Specific Target Market

Moat HVAC contractors who want to build a successful HVAC business often think they need to do more advertising and marketing.
Whether you are looking at running Google Local Service Ads, using content marketing, social media marketing, email marketing, or increasing customer reviews, all of these marketing tactics will attract potential clients as long as the approach is right.
First, you must knowing who your ideal HVAC customers are.

Any HVAC marketing strategy that focuses on the correct target market will ensure better results. When you are clear on who you serve and who you don't want to serve, it saves you time and stops you from wasting money on ineffective marketing.

Remember that HVAC marketing is not just about getting your name and brand out there. It is about getting the potential customer to trust you and want to contact your.

The most effective HVAC marketing idea will help the customer to make an easier buying decision and move them towards action.

For this reason, knowing your specific target market also relieves the stress of trying to serve too many types of customers.

Figure out who are your most profitable and enjoyable HVAC customers, and focus at least 75% of your attention on serving them better.

It's important to define whether you serve:

commercial or residential HVAC services
AC repair or AC replacements
furnace repair and furnace replacements
new home construction HVAC systems
HVAC for residential homes or apartment buildings


You should also add these specific services to your Google business profile (formerly known as a Google My business profile).

The better you can describe who you serve, the easier it will be for the search engine algorithm and local SEO tools to promote your HVAC business.


2) Clear Business Systems

Any successful HVAC company will have excellent business systems and follows them closely.
Excellent customer service is not created by doing whatever the customer wants in the spur of the moment. It is created by following a process that ensures customer satisfaction.
Using simple HVAC sales scripts that your techs can customize and make their own is a good start to attracting potential clients, and to hold on to existing customers.

When your business gets hectic and there is a great deal of demand, it is easy to let your systems slip. It's easy to live in organized chaos.

HVAC professionals who have clear processes, checklists, and regular team meetings will flourish when the busy times hit. Those that try to 'wing in' will find they have a lot undue stress and worry and create a lot less profit.

The key to success and longevity in growing an HVAC business is to create business systems that your team members follow and can operate without you.


3) Unique Offering and Branding

One of the toughest challenges in the HVAC industry is to stand out from the competition. From a customer perspective, all HVAC service providers offer much the same thing.
HVAC professionals who attract the most prospective customers do a lot of things differently.
To grow your customer base, brand awareness, and customer loyalty you must focus on doing things to stand out from the competition.

Many HVAC business owners think that they must stand out via price. But the reality is that lower pricing of HVAC services only causes profitability issues and doesn't usually create more business.

Other HVAC professionals think that the only way to stand out is to spend more on digital marketing, social media marketing,Google local services ads, or Google ads. This is not true.


If you find ways to create a unique offering or a distinct brand in your local market, you are much more likely to stand out and gain more leads.

Think through the ways that you can be unique and how you will offer a better or more effective service to your HVAC customers. It might be something as simple as online bookings, offering financing options, or including maintenance agreements and tune-up services with unit replacements. Mention and promote these unique offerings as part of your HVAC marketing strategy.

Remember that your customers won't remember how much you charge if you solve their problems. Figure out how you can better serve your customers than the competition, and this will grow your HVAC business in 2023.


4) Clear Values and Missions Statement

Do you know what your company stands for? Do you have a clear reason why you are in business in the first place?

Any HVAC company that clearly defines its company values will have an advantage in its marketing, hiring, and team retention.

Also, if you fulfill your company's core values and have a clear reason why you are in business, it makes it easier for customers to build loyalty with your company.

The biggest and most successful companies on earth have clear values that are reflected in their marketing, their approach to customer service, and their hiring.

As an HVAC business owner, you should do the same thing. Share your HVAC company's values and mission as part of your marketing strategy.

Spend time building your core values, and watch how having an aligned team will help to grow your HVAC business.


5) Well-Trained HVAC Sales Team

Whether you like it or not, no HVAC company will grow without having skilled HVAC techs who know how to sell services and replacements.

In years past, it was common for only the HVAC business owner to handle the sales or have a dedicated HVAC salesperson who took care of it.

One of the biggest shifts in the HVAC industry has been the move towards selling HVAC techs. An HVAC technician who is able to help a potential customer buy is guaranteed to become a huge asset and profit center for the company.

Remember: HVAC sales training is not a luxury; it is an essential part of any growing HVAC business.

HVAC business owners who invest time in HVAC sales coaching and training will see a large increase in sales, revenue, and profitability.

In our experience as HVAC business coaches, we have seen HVAC technicians grow their revenue by $1-2 Million or more per year with the right sales process.


6) Focus on Growth and Improvement

Perhaps the most obvious way to grow your HVAC business in 2023 and beyond is to focus on improving what you now do.

Any business that is not continually upgrading its services and product offerings will soon fall behind the market. This is as true in the HVAC industry as any other.

Improvements can be in any number of areas, but the most impactful will be in customer service, business operations, and team training.

As an HVAC business owner, it is likely that you have at least $300,000 - $500,000 in additional revenue available simply by offering more add-on products and services.

Teaching your team how to perform their services better will grow loyalty and referrals and increase the average sale for each customer.

A clear focus on improvement through every part of your business is a surefire way to stand out above the competition and grow your HVAC business.

The better you serve your HVAC customers, the more positive Google reviews and new customer leads from referrals will come in.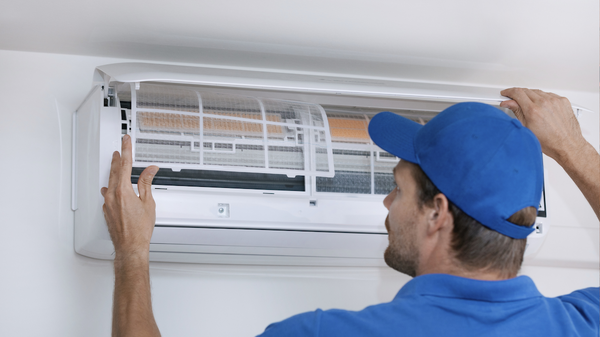 Ready To Grow Your HVAC Business in 2023?

Most HVAC business owners want to find the best methods for increasing HVAC sales and creating a business that runs itself.

SBE's Odyssey Program creates multi-million dollar HVAC businesses by helping HVAC business owners grow their revenue and profit.

Our proven HVAC business processes are field-tested by the operators of a $40mm HVAC company. We help HVAC businesses just like yours to fast-track their revenue, train their HVAC sales teams, and secure true financial freedom.

Reach out today to grow your HVAC business and stand out in the competitive HVAC industry.

Let SBE Help you Grow Your HVAC Business.