How To Sell More HVAC Maintenance Agreements in 2023
When the HVAC busy season starts to slow down, most HVAC business owners start to panic.
The pressure to keep your HVAC techs busy, to keep the business profitable, and to keep doing HVAC repair and replacement becomes a big focus.
Of course, a lot of the problems that a HVAC company has in the fall, winter, and spring are caused by a lack of HVAC service agreements.

Without a steady stream of HVAC maintenance agreement customers, every HVAC business will suffer during the slow season every year.


The 'Danger' of The Summer Rush

When the summer heatwave hits, HVAC companies gear up for their busiest time of the year.

It's frenetic. It's exciting. It's profitable.

But, all this rushing around this can also be dangerous.

Amidst the surge of service calls, installations, and air conditioner repairs, most HVAC business owners forget that the high demand won't last forever.

Every HVAC unit is more likely to need emergency repairs during the hottest months, but demand for air conditioning service will start to slow dramatically by the start of the fall season.

The high demand in Summer for emergency service can be dangerous for a HVAC contractor to depend upon.

For any HVAC business to survive and thrive, it's crucial that HVAC technicians and business owners to understand the value of selling HVAC service contracts during Summer to support the slower seasons.

In this article, we'll discuss how offering HVAC service contracts and HVAC maintenance agreements can be a huge benefit to your customers.

We'll also look at how setting up HVAC service agreements with during the summertime can help your business thrive in a all year long, even in the most competitive market.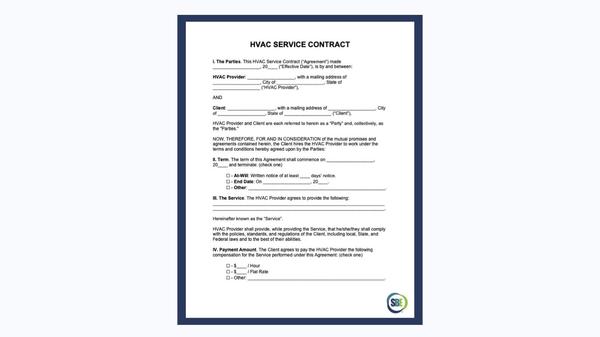 What is a HVAC Maintenance Agreement?

HVAC maintenance agreements (also known as HVAC service agreements, or HVAC club memberships) are a recurring preventative maintenance plan that ensures that air conditioing and heating units are kept clean, and running efficiently.

Typically, routine maintenance on a HVAC system will include:

Complete cleaning of the evaporator and condenser coils, drains, and elements
Inspecting connections, motor operations, and thermostat functionality
Monitoring refrigerant pressure
Testing safety controls
Lubricating all moving parts

Most HVAC maintenance plans offer a twice-yearly plan to ensure that the HVAC system runs well in both the summer and winter months. Regular maintenance helps the homeowner to stay cooler and comfortable in your home, it also significantly reduces energy costs.
One overlooked benefit to routine HVAC maintenance is that a HVAC technician will discover if an AC unit is in need of repairs or is at risk of a breakdown before it happens. This can reduce the need for emergency service or costly repairs when the system should be working.

HVAC Maintenance Agreements Offer Big Opportunity
As an HVAC business owner, we know that the peak need for air conditioning repairs comes from April to September.

This high demand season is when every HVAC technician is booked solid, and is focused on urgent repairs, and making sure that the customers' air conditioner is running.

Broken or run-down air conditioning systems will always fail in the Summer months when they are needed most. And if a HVAC repair or replacement is needed, during Summer it is easier to sell to a new customer.

During the busiest months, it can be easy to just focus on the immediate needs of your HVAC customers. But there is also a huge opportunity for growing the overall profit of your HVAC business.
Keep in mind also that a major reason why it is crucial to sell maintenance agreements during the summer is this is when you have the most opportunity to sell them!
Ready to Take Your HVAC Business to the Next Level?