Sales and Service Coach and Trainer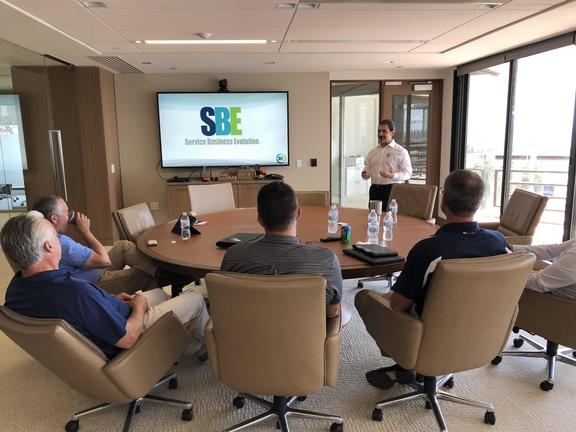 Job Description
Service Business Evolution is a 9-year-old training and coaching business for HVAC and plumbing contractors. Our purpose is to change lives and give people the freedom to live the life they always wanted by helping contractors create a business that runs itself.
We are looking for someone who has the desire to coach and train HVAC/plumbing technicians and in-home salespeople.

You'll enjoy coming to work every day if you get, want, and have the capacity to:
Train technicians and salespeople on the fundamental skills and processes needed to increase revenue and build trust with customers
Coach on processes that build habits and keep momentum towards their goals
Provide leaders with structure and operational tools that result in efficient and profitable departments
Help contractors identify and developed up-and-coming leaders
If you have experience working with salespeople or service technicians and want to belong to a team who tells each other the truth, work together for a common goal, let our light shine brightly, and allow others around us to shine as well. – this role will be a great fit. We are driven to accomplish great things while enjoying a work/life balance.

You will love it here if you:
Value Authenticity
Are Driven
A team player
Confident yet humble
Appreciate joyful life balance
As a member of this team, you will have a leader who:
Gives clear direction and promotes autonomy
Makes sure you have the necessary tools
Acts with the greater good in mind
Takes time to truly understand your role and how you can help the company
Makes their expectations clear
Communicates well
Has effective meetings
Meets one-on-one with you quarterly or more, if needed
Rewards and recognizes your performance
Supervisory Responsibility
This position has no supervisory responsibilities
Work Environment
This position is remote. This role routinely uses standard office equipment such as computers, phones, and multifunctional printers.
Position Type
This is an exempt, full-time position, normally 40 hours per week. This position is based on results; therefore, occasional evening and weekend work may be required as job duties demand.
(AZ) Hours of work are Monday through Friday, normally 5:30 am AZ – 3:30 pm AZ
(EST) Hours of work are Monday through Friday, normally 8:30 am EST – 6:30 pm EST