Business Coach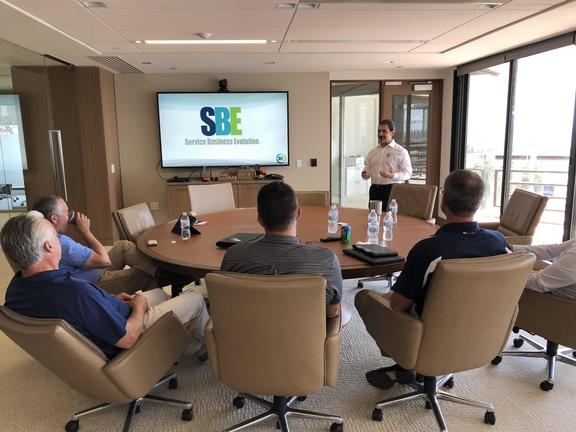 Job Description
Are you a "take control" type of person who thrives in an exciting, challenging and fast paced environment? Want to help people grow and do something with purpose? Do you want to be part of an organization that will help you reach your full potential? Then read further…
We're looking for a talented, enthusiastic and dedicated individual that thrives in a fast-paced environment. If you like being the key to success, the one everyone else depends on, if you excel at solving problems, quickly taking control of a situation and seeking resolution, if you have solid experience in Sales, Sales Management and/or Operations for a Sales Organization… then this is for you!
As a Coach for our organization, you would be responsible for coaching & training a book of business (approximately 30 HVAC contractor owners and their employees), reaching or exceeding company goals & KPI's, managing projects within a CRM and project management system, and contributing to the Coaching & Training Department. The ideal candidate for this position comes from a strong sales organization background, is resourceful, organized, a problem solver, detail-oriented, an expert communicator with strong listening skills and a team player.
Responsibilities
Primary Purpose: Coach Contractors by helping them Make Money (Phase 1). This is your and SBE's #1 objective, all the while maintaining 100% customer satisfaction. This will be accomplished by implementing the following key tools into the contractor's business:
Integrate the SBE App into 100% of the business you are coaching
Teach Building Sales Champions Process
Taking Quiet Market Share
Service and Equipment Pricing for Profit
Defer all Phase 2 & Phase 3 activities to the Business Advisor.
(Get the Business Advisor involved with any business conversations that fall outside of the Phase 1: Make Money topics listed above.)
Job Duties Level 1:
Understand and describe to contractors the following processes:

Welcome Call
App/Dashboard Rollout
Goal Setting
Coaching from the Dashboard
Building Sales Champions Sales
Process (Suspect, Prospect, Quality, Closable)
Current Business Opportunity (CBO)

Understand, manage, and perform proficiently daily activities by following SBE's standard operating procedures using the following tools:

Zoom – conduct coaching sessions via web conference and manage all call recordings
DropBox – manage contractors' files, assist with account activation and Box Tools installation
Zoho CRM – create and/or modify coaching calls, record call notes, internal notes, contacts/people, tasks and projects
Google Calendar and Apptoto (online booking)

Schedule bi-monthly training with each contractor
Sign-up contractors for additional SBE provided training; super conference, boot camps, and local training
Complete Objective Management Group's Certification on the Sales Evaluation
Review daily dashboards to monitor KPIs, performance, and contractor engagement
KPI's for this Role:
95%+ of Contractors and their Technicians using the SBE App
100% of Technicians have goals set in the SBE App
75%+ 1 year retention rate and
65%+ 2 year retention rate
80%+ Contractor training attendance
Mutually agreed upon goals for upcoming contractor training registrations
Revenue and earnings (captured during Business Advisor Review)
Completion of SBE Dashboard case study for each contractor over a 12 month period
Qualifications
Demonstrated experience in understanding business principles as well as a solid understanding of coaching principles as it relates to
Demonstrated facilitation, coaching, training experience
Demonstrated experience working with small businesses
Very strong communication skills, including the ability to listen objectively
Ability to work in a collaborative and multi-disciplinary framework
Demonstrated passion and drive in customer service
Passionate about developing skills and knowledge-base
Attention to detail and information
Self-starter with an entrepreneurial spirit
Operate with a high degree of integrity
Able to work independently with little supervision while following company processes
Must be self-motivated
Must have strong analytical and problem-solving skills
Must be able to work in a team environment
Ability to learn quickly and apply knowledge
Highly proficient in Microsoft Office applications (Word, Excel, PowerPoint)
Knowledge of any CRM a plus
Knowledge of online file sharing a plus
HVAC or service related industry experience a plus
Education
BS/BA in a business related field preferred (Business, Marketing, Accounting, Management, Sales)
Supervisory Responsibility
This position has no supervisory responsibilities
Work Environment
This position operates in a professional office environment. This role routinely uses standard office equipment such as computers, phones, and multifunctional printers.
Position Type
This is an exempt, full-time position, normally 40 hours per week. This position is based on results; therefore, occasional evening and weekend work may be required as job duties demand.
Hours of work are Monday through Friday, normally 5:30am – 3:30pm
About SBE
SBE – Service Business Evolution is an industry-leading business development, project management and training company in Phoenix, AZ. We offer comprehensive solutions to help HVAC (heating, ventilation and air conditioning) company owners across the USA and Canada grow profitable, scalable and sustainable businesses. Our team focuses on providing the very best customer service and business training available. Our team of hard-working and dedicated Coaches, Trainers, and Support specialists help HVAC owners set aggressive goals and implement strategies that will transform their companies into industry leaders and job creators.