Business Coach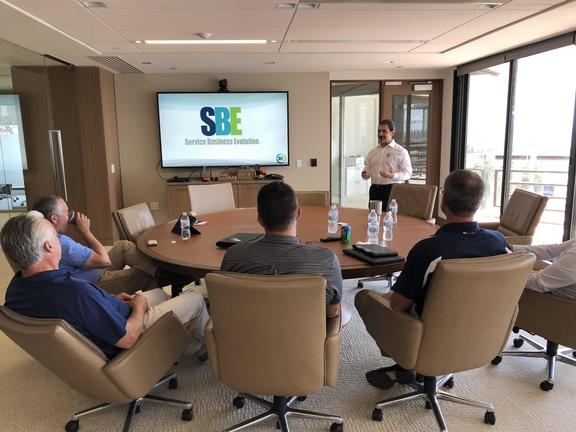 Job Description
Are you a coach that thrives on helping people create a profitable business they love?
Do you feel fulfilled by coaching but do not enjoy finding and selling new clients?
If so, you may be a great fit with us at Service Business Evolution. No specific industry experience is required. We'll train you on what's important. We want you to spend your time on your skills and passion – making an impact in people's lives. We'll take care of running the ship and sending you clients who will grow with your coaching.
We are an online, 100% virtual company providing home service companies with a proven business model to serve as a trusted advisor to small business owners. As a result of working with us, our clients can reclaim back their schedules, build amazing cultures that impact and change lives, and build a sustainable business that serves their community.
We are growing rapidly, and excited to bring on additional professional and performance-motivated business coaches to cultivate and nurture our growing base of members. Our Coaches work alongside the owners in our program by supporting them with proven systems. We provide the How, You keep them on track, achieving milestone after milestone until they succeed.
What we offer you:
· Freedom and flexibility around when you work with your clients.
· Access to proven systems and materials.
· The opportunity to be part of a collaborative coaching team that cares about making a difference.
· Professional Development and support for your continuous learning and growth.
What you'll be doing:
· Establishing genuine rapport with our business owners, finding out why they are stuck and what they need to do next to move forward.
· Ability to use our systems, processes, and methods to move the needle in businesses to get measurable results.
· Sharing your ideas for improving our systems and processes based on your own base of experience as you go.
· Getting deep satisfaction from seeing people move through limiting beliefs and achieving success through changing up their business structure.
Qualifications
Demonstrated experience in understanding business principles as well as a solid understanding of coaching principles as it relates to
Demonstrated facilitation, coaching, training experience
Demonstrated experience working with small businesses
Very strong communication skills, including the ability to listen objectively
Ability to work in a collaborative and multi-disciplinary framework
Demonstrated passion and drive in customer service
Passionate about developing skills and knowledge-base
Attention to detail and information
Self-starter with an entrepreneurial spirit
Operate with a high degree of integrity
Able to work independently with little supervision while following company processes
Must be self-motivated
Must have strong analytical and problem-solving skills
Must be able to work in a team environment
Ability to learn quickly and apply knowledge
Highly proficient in Microsoft Office applications (Word, Excel, PowerPoint)
Knowledge of any CRM a plus
Knowledge of online file sharing a plus
HVAC or service related industry experience a plus
Education
BS/BA in a business related field preferred (Business, Marketing, Accounting, Management, Sales)
Supervisory Responsibility
This position has no supervisory responsibilities
Work Environment
This position is remote. This role routinely uses standard office equipment such as computers, phones, and multifunctional printers.
Position Type
This is an exempt, full-time position, normally 40 hours per week. This position is based on results; therefore, occasional evening and weekend work may be required as job duties demand.
Hours of work are Monday through Friday, normally 5:30 am – 3:30 pm
About SBE
SBE – Service Business Evolution is an industry-leading business development, project management and training company in Phoenix, AZ. We offer comprehensive solutions to help HVAC (heating, ventilation and air conditioning) company owners across the USA and Canada grow profitable, scalable and sustainable businesses. Our team focuses on providing the very best customer service and business training available. Our team of hard-working and dedicated Coaches, Trainers, and Support specialists help HVAC owners set aggressive goals and implement strategies that will transform their companies into industry leaders and job creators.